About Us
Friends of Ho'okena Beach Park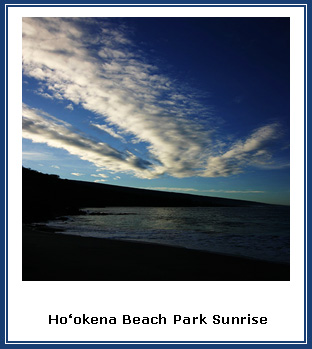 Noted for its dark-gray coral and lava sand beach, Ho'okena was transformed from a sleepy little fishing village to a bustling commercial trade center after the first steamships arrived in the Hawaiian Islands in 1836. It wasn't until the mid-1930s that the village's economic importance began to diminish. The introduction of automobiles and trucks made steamship landings at Ho'okena less common and many residents moved away from the remote village to be closer to the highway. The beautiful Ho'okena Beach remained, however, and residents have been working hard over the past few years to reposition that beach at the center of the community's cultural and economic life.
Friends of Ho'okena Beach Park (FOHBP) is a non-profit 501(c)(3) organization established by members of the Ho'okena community. FOHBP is an outgrowth of Kama?aina United to Protect the ?Aina (KUPA), a community organization focused on the preservation of cultural and natural resources and culturally sensitive economic development in Ho'okena.
Through the University of Hawai'i at Hilo and the Hawai'i Small Business Development Network, FOHBP received Department of Housing & Urban Development (HUD) Alaska Native/Native Hawaiian Institutions Serving Communities (AN/NHIAC) funds to develop a community microenterprise. FOHBP's primary objective was to develop a sustainable microenterprise that would provide employment opportunities for community members and to return management of Ho'okena Beach Park to the community.
In May 2007, the County of Hawai'i signed an agreement with FOHBP to transfer management oversight of the park to FOHBP. The agreement required that FOHBP use microenterprise revenues to maintain the park. FOHBP has hired community members to maintain the park and provide park security via the "Aloha Patrol".
This renewed the popularity of Ho'okena Beach Park and it is now listed on travel websites as one of the island's best beaches for camping, swimming and snorkeling. The County of Hawai'i is using this successful partnership as a model for establishing similar community based partnerships at other county parks.